Father & Son - Michael and John McGuire
December 16, 2013
ToneQuest Report's new article on John McGuire Guitars can be previewed
HERE
(thanks to Netherlands dealer QGuitars!) Also introduced are
VAULT PICKUPS
, available exclusively through USA John McGuire dealer,
Music Machine Guitars
, Kennewick, WA.
Old Valley Arts Guitars fans and guitar connoisseurs alike are discovering the new
John McGuire Guitars
. Yet some folks are still confusing with a Mike McGuire out there building Fender-types as McGuire Guitars-- there's also a Maguire Guitars.
This is fine, but just know that Michael McGuire of the original Valley Arts/Gibson Custom Shop fame is happily retired. His son John is carrying on with
John McGuire Guitars
, currently based in the Boston, MA area.
John's father founded Valley Arts Guitars in the 70's in Southern California. Through the 80's, Michael built custom signature guitars for the likes of Larry Carlton & Steve Lukather.
80's Valley Arts Ads: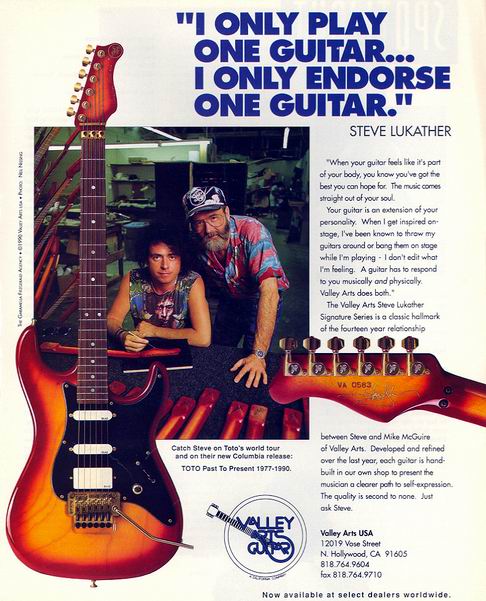 Go give John a like @
www.facebook.com/pages/John-McGuire-Guitars
John McGuire Guitars are sold by:
Music Machine Guitars, Kennewick, WA (link above)
Carter Vintage Guitars, Nashville
QGuitars/Strings & Things, Netherlands, EUR
If you didn't read this at Stratoblogster.com Guitar Blog, it's been bootlegged! ©2006 - 2013 JP Holesworth. All rights reserved. This article may not be reprinted, distributed or duplicated without author's written permission.
Pin It Now!