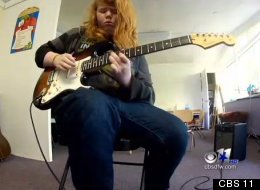 October 7, 2013
We haven't posted a new Young Guitar Wonder recently. Shame on us! Just happened to stumble on 13 year old Justin Weed, who won the 2013
Dallas International Guitar Festival
under 20 category, back in April when I was asleep I guess.
The above video, from the fest, shows Justin fearlessly pullin' out all the tricks. And that's what it's all about; being fearless! So as long as this young Stratobrother stays inspired, he's just gonna get better and better.
Justin's band "Work in Progress" is already gigging at the local pizza joint; mixing covers with original material.
Check 'em out at YouTube channel:
crumptyjackCJ
Huffington Post
feature.
Archive Directory
If you didn't read this at Stratoblogster.com Guitar Blog, it's been bootlegged! ©2006 - 2013 JP Holesworth. All rights reserved. This article may not be reprinted, distributed or duplicated without author's written permission.
Pin It Now!