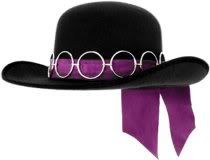 Everyone welcome the newest GAP-- the "
PALI GAP
", that is!
The ever-growing assortment of Hendrix apparel items oughta place a Pali GAP in every mall by next Christmas. In addition to the obvious zillion t-shirts, there are also some nice button down collars, caps & hats, men's boxers, ladies items and yes, EVEN baby clothes! I haven't seen anything for the pets yet, however there is a Hendrix air freshener you hang from the car mirror (no kidding!) I just hope it doesn't smell like sensemelia-- imagine trying to explain to a traffic cop how
that smell
is only your air freshener.
The Bob Marley air fresheners probably come with a warning label.
Maybe someday, young and old in every white middle class American cul-d-sac will sport some sort of Hendrix apparel. Some of you probably consider this blasphemous, but it keeps the memory alive and leads back to the music. Even Beethoven gets presented ridiculously in contemporary contexts, but ultimately some kid here and there gets curious and discovers the artist's work.
Remember, it takes money to keep libraries and museums open. Cultural preservation requires constant exchange in some form or another. I'm waiting for the "Purple Haze Grape Juice" boxes, "Let Me Stand Next To Your Hotsauce", "Dolly Dagger Lingerie" and Smith & Wesson's "Hey Joe Semi-Auto".
Just avoid the air fresheners...
Pin It Now!